Good Beer and Good Food at SAVOR 2016
This weekend I attended the SAVOR Craft Beer & Food Experience hosted at the National Building Museum. I've done a number of other large beer festivals, including the Great American Beer Festival and and the American Craft Beer Festival, but never SAVOR until now. I was aware of it through the occasional notification from the AHA, but the fairly hefty price-point of $135 always scared me off. Until this year anyway, where I put that aside and figured I'd try it.
SAVOR bills itself as a different kind of event than the usual beer festival where there's tons of breweries, tons of beer, and a giant horde of people. Instead of trying to fill the venue to the brim, SAVOR instead sells a limited number of tickets with the intent of keeping lines in the event reasonably sized. It also shoots for a higher-end demographic, encouraging business casual+ attire and offering chef-prepared small-plate pairings with each individual beer. Booth volunteers aren't a thing at SAVOR either; they insist on breweries having actual employees, often the brewers themselves, serving the beer to people and offering conversation on the beer and the brewery. It also serves as a sort of industry convention where brewers from all over can get together and learn from each other, and many if not all of the "salons" where a topic is discussed are open to the public for a fee.
I was initially somewhat skeptical if the tickets were going to be worth it. In previous years there had been complaints of things like the pairings and beer running out quickly, no places to sit down, and other laments. But the hope was that those things were being addressed, as you'd hope they would be for an event of this size. We'd arrived at the location around 15 minutes before the doors opened and stood in line, which was only a hundred or so feet long, far better than previous experiences at major beer fests where it can be up to a quarter mile. Once inside, just a little bit after the doors opened, we got our tasting glasses and entered the building museum.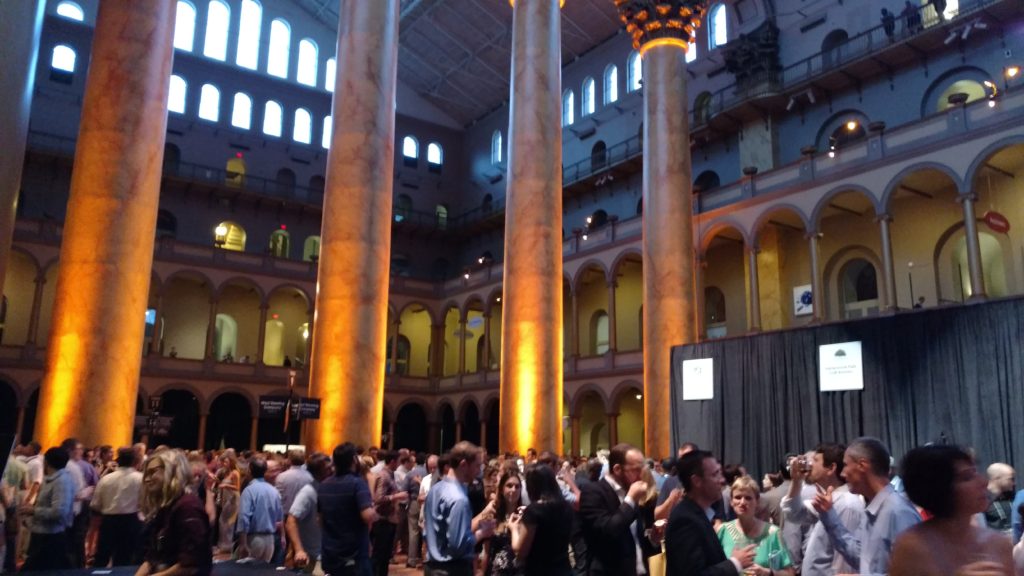 I'd personally never been to the building museum before and while the pictures make it look impressive, they really don't do the venue justice. Â The sheer size of the center area with the eight giant corinthian columns, some of the largest in the world, is amazing. Â Then as the sun goes down the lighting drops and the venue takes on a little bit of a surreal feel.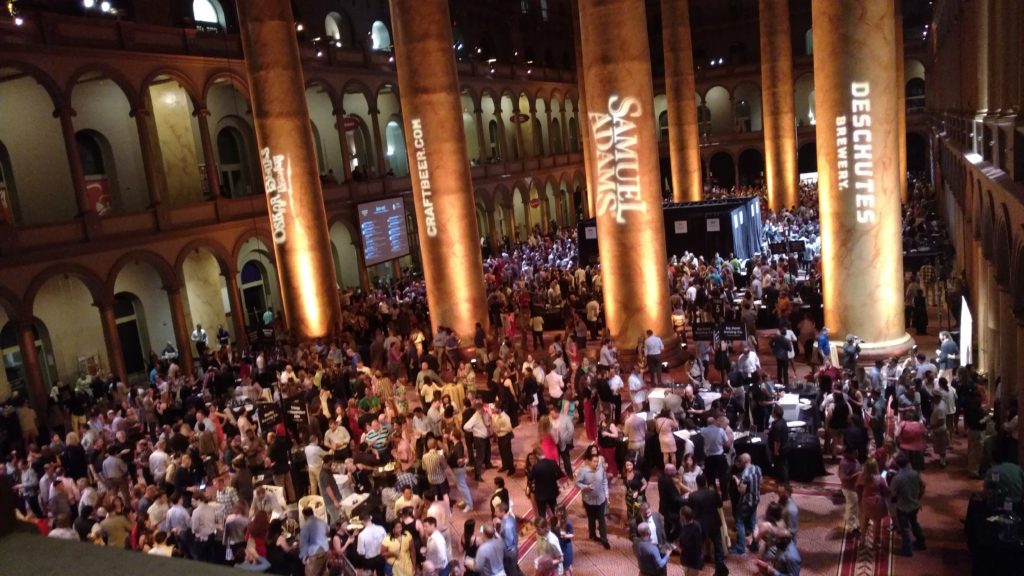 Both the food and beer were great.  I don't think I had to wait in line for more than a minute to get any of the beers or pairings, even for the more popular breweries like Dogfish Head that were front and center in the great hall.  I was pretty happy with the variety of breweries, though oddly there were some breweries that were in the area for events at local breweries leading up to SAVOR but weren't actually participating at the main event.  Maine Beer Company was the main example of this I'd saw.  Some of the breweries also brought limited availability seasonals and other special batches, such as Hardywood bringing their Grobe Teufal, a smoked sour.
The food pairings were also pretty good.  I'm not sure that there was much that I really thought were amazing, but they were all pretty good.  The serving size was also pretty reasonable, and I'd say the availability of the pairings was better than expected.  While there were certainly some pairings that stopped appearing after a few hours, there were still a good number of them available in the last hour before the event ended.
As well as food pairings there was also a charcuterie stand, cheese stand, and oyster stand.  I was able to try all three and they all were great.  While they all had lines, between 15 and 30 minutes for both the cheese and charcuterie stands, it didn't seem unreasonable given the amounts you receive.  My only gripe was that at the cheese stand and charcuterie stand I'd felt somewhat rushed, which while normally wouldn't be that bad, I don't believe plates were available so I ended up having to juggle a bunch of items until getting through the line.
Overall I'd say that SAVOR 2016 was definitely worth the ticket price. Â It was nice having a beer festival that feels large while not actually having a lot of the downsides that come with a large festival. Â I'll definitely consider going back in the future.